UAE Selected to Host COP28 in 2023
UAE and USA Launch $4 Billion AIM for Climate Initiative to Invest in Agricultural Innovation for Climate Action
UAE and IRENA Announce $1 Billion Energy Transition Accelerator Financing Platform for Renewable Energy Projects in Developing Countries
UAE Launches Hydrogen Leadership Roadmap to Achieve National Net Zero Ambition
UAE Encourages Youth to Get Involved in Global Climate Action
The 26th United Nations Climate Change Conference (COP26) in Glasgow saw a slew of major climate partnership announcements by the United Arab Emirates, underscoring the country's strategy to drive economic growth through climate action. In recognition of its climate track record and plans, the UAE was selected as the host of COP28 in 2023 by the UNFCCC.
The UAE delegation – comprising Minister of Foreign Affairs and International Cooperation, H.H. Sheikh Abdullah bin Zayed bin Sultan Al Nahyan; Special Envoy for Climate Change and Minister of Industry and Advanced Technology, H.E. Sultan Ahmed Al Jaber; Minister of Climate Change and Environment, H.E. Mariam Almheiri; and representatives from across government, the private sector and youth groups – pushed for practical steps – from renewable energy to agriculture technologies – to enable greater ambition on climate action across a diverse spectrum of countries and communities.
Here is a snapshot of key UAE outcomes during COP26:
In advance of the meetings in Glasgow, the UAE announced its groundbreaking Net Zero by 2050 Strategic Initiative, making it the first Arab and OPEC country to announce a net zero goal. The announcement helped to set off action across the region, providing a proof point that climate action will strengthen the competitiveness of existing sectors, as well as create new sectors and jobs.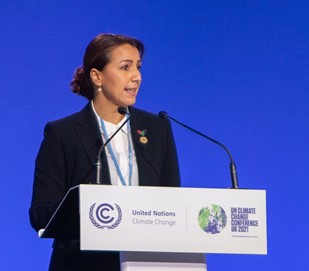 On 2 November, the UAE and the US launched the Agricultural Innovation Mission (AIM) for Climate, a pioneering initiative to significantly increase investment in innovation for both climate adaptation and mitigation by 2025. Agriculture is highly vulnerable to climate change and also contributes more than a quarter of total global greenhouse gas emissions. The 30+ countries in the initiative announced an initial $4 billion in new investment to spur transformative climate action in global agriculture over the course of five years. Leaders including US Secretary of Agriculture Tom Vilsack, USAID Administrator Samantha Power, and United Nations Foundation CEO Elizabeth Cousens, joined H.E. Mariam Almheiri for events on 5 and 6 November to discuss AIM for Climate's deliverables and rationale. 
"Food systems can and must be a solution provider for both climate mitigation and adaptation efforts…The last few months, we have been mobilising the political will and investments to put together a remarkable coalition under AIM for Climate that in the next five years will push the boundaries and transformation of our food systems."

H.E. Mariam Almheiri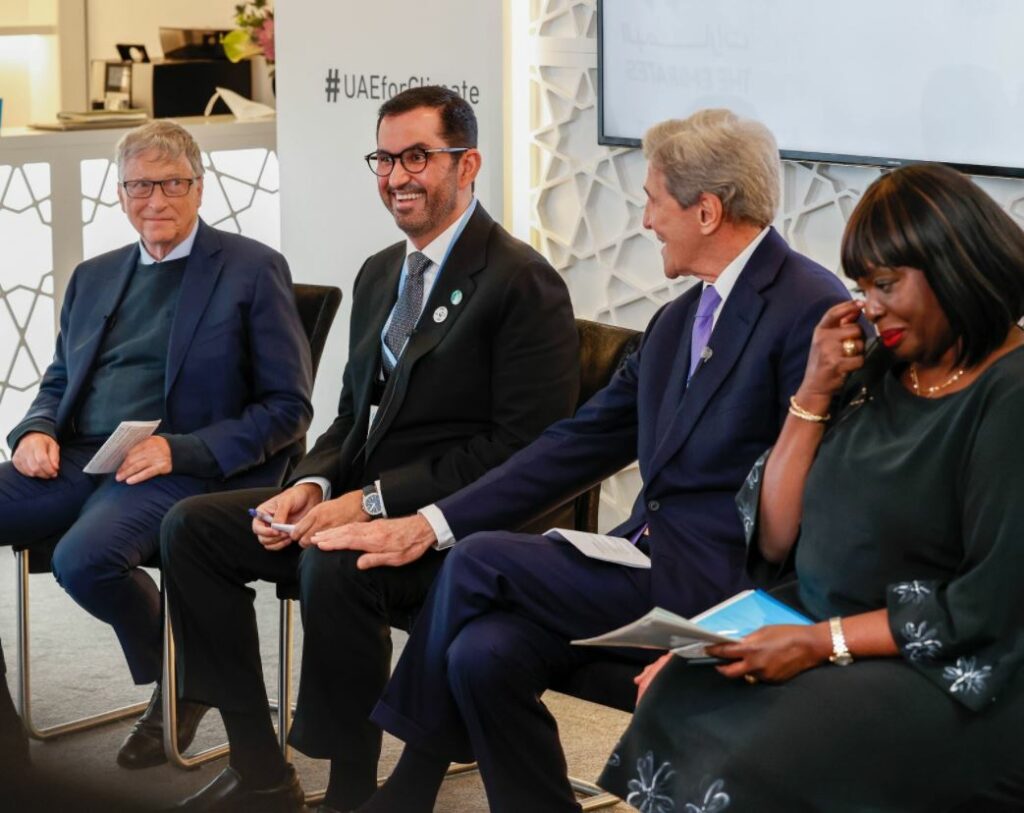 On 3 November, H.E. Dr. Sultan Al Jaber hosted an event with the Atlantic Council on AIM for Climate and the economic benefits of broader climate innovation with U.S. Special Envoy for Climate John Kerry, Bill Gates, and Kenyan Minister of Foreign Affairs Raychelle Omamo. The countries and organizations of the four speakers are all founding partners of AIM for Climate.
"The UAE has adopted an open and inclusive approach to transform the nation into a global hub for science and innovation. Our pioneering innovation work in the clean energy sector has provided us a model for strategic climate partnerships."

H.E. Dr. Sultan Al Jaber
The UAE and the International Renewable Energy Agency (IRENA) also on 3 November announced the Energy Transition Accelerator Financing (ETAF) platform, a $1 billion global climate finance facility to support renewable energy projects in developing countries. The UAE became ETAF's first partner and committed $400 million, raising total UAE renewable energy aid to over $1.5 billion. The launch was joined by the Prime Minister of Antigua and Barbuda & Chair of the Alliance of Small Island States, Gaston Browne; President of Gabon and Chair of the African Group, Ali Bongo Ondimba; and the President of Togo, Faure Gnassingbe, a partner with the UAE and IRENA for a major solar project.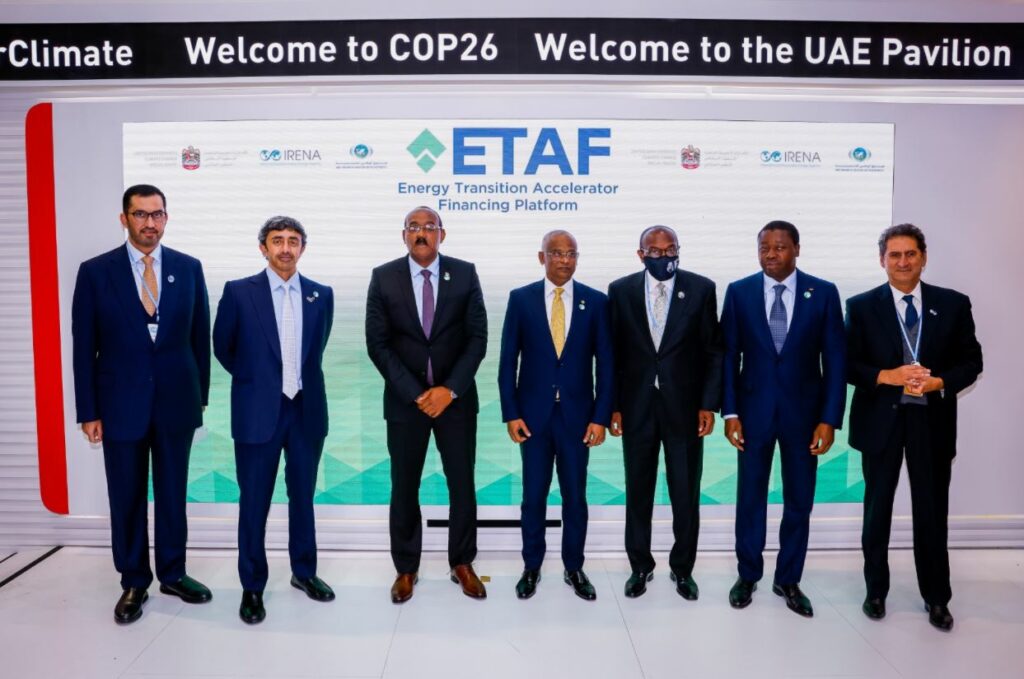 "The UAE views development aid and climate action as powerful catalysts for economic growth…ETAF is the kind of initiative that combines partnership, policy and finance to create tangible progress."

H.E. Dr. Sultan Al Jaber
On 4 November, Minister Almhieri led the launch of the UAE's Hydrogen Leadership Roadmap, a comprehensive national blueprint to support domestic, low-carbon industries and contribute to the UAE's net zero ambition. Through this roadmap, the UAE aims to achieve a 25 percent market share of low carbon hydrogen and derivatives in key export markets by 2030, strengthening the country's climate efforts.
In the UAE's national statement on 10 November, H.E. Dr. Sultan Al Jaber delivered an open invitation from the UAE to the world for partnership to find solutions that will tackle climate change and create sustainable economic growth with positive social impact.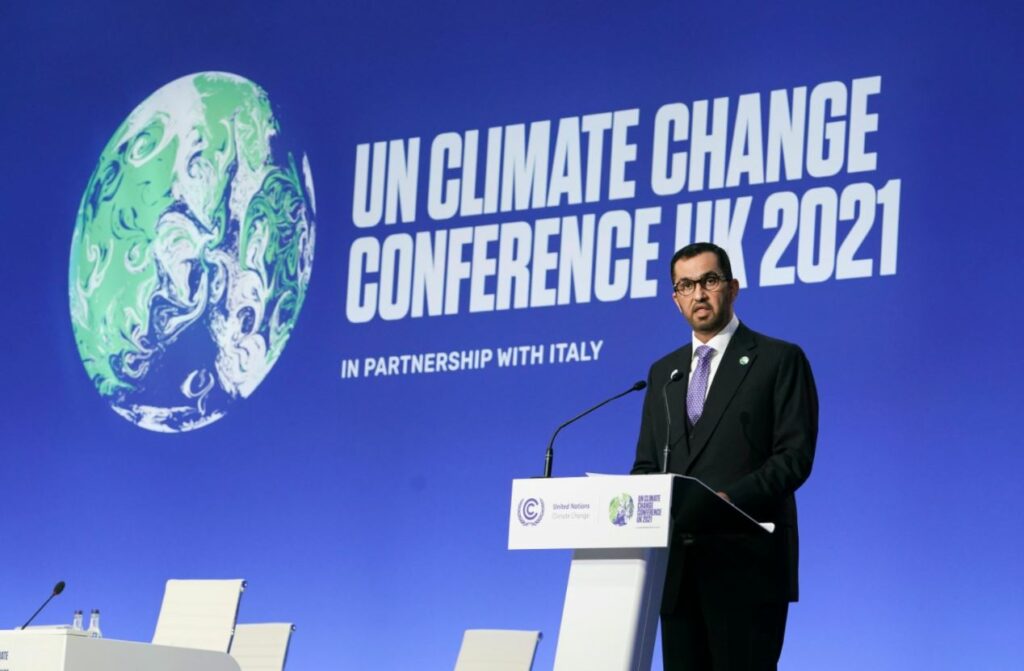 "Our nation's Founding Father, Sheikh Zayed bin Sultan Al Nahyan, set out the principles of sustainability in all sectors. These principles have been integral to our nation's efforts in protecting the environment, diversifying energy sources, and developing policies to reduce the impact of climate change. The effects of climate change transcend borders, and are relevant to all nations, small or large, developed or developing, rich or poor."

H.E. Dr. Sultan Al Jaber
On 11 November, the UNFCCC announced that the UAE will host the 28th UN Climate Conference (COP28) in 2023. The UNFCCC decision followed an earlier endorsement of the UAE's hosting offer by the Asia-Pacific Group of nations. The UAE will now begin to work hand-in-hand with the UK as COP26 host and Egypt as COP27 host to ensure continuity and momentum in the climate process.
"COP28 in 2023 will and must be a 'solutions COP' – and I am confident that the rich experience of this young, inclusive nation in advancing practical, viable and shareable solutions to the world's most pressing challenges will again come to the fore as we host the world for the UN Climate Change Conference in two years' time."

H.H. Sheikh Abdullah bin Zayed Al Nahyan
The selection of the UAE as COP28 President stems from its 15 years of advocacy and investment in the low-carbon transition. The UAE was the first country in the Middle East and North Africa to ratify the Paris Agreement and commit to lowering carbon emissions through its nationally determined contribution. It was also a pioneer in setting and implementing the region's first renewable energy and biodiversity conservation targets as part of its climate ambitions and economic growth strategy.
UAE youth delegates were a critical part of the UAE's presence at COP26, organizing events and hosting a booth for other delegates and members to learn more about the UAE's efforts at home and abroad to accelerate climate action. As part of the Emirates Youth Climate Strategy, UAE youth envoys aim to raise awareness about the climate crisis and promote youth participation in decision-making and climate action.