Creating a welcoming space for all.
As the United Arab Emirates expands its global footprint—including a successful campaign for election to the United Nations Security Council—the country has celebrated another milestone with the opening of its brand-new Permanent Mission to the UN on East 46th Street. The new location, designed by Skidmore, Owings & Merrill, was strategically chosen so that the UAE could forge deeper relationships with the community of diplomats and foreign leaders who convene at the UN.
The new headquarters reflects the UAE's 50-year commitment to the values of collaboration and dialogue that that the nation prioritizes in its work with the UN community. The project broke ground during the high-level week of the 72nd Session of the UN General Assembly in September 2017.
The goal behind the building's architecture was to design a lasting legacy project that fit into the New York City landscape, drawing inspiration from the city's famous art deco buildings while complementing the traditions and identity of the UAE and Middle East. The building stands as a symbol of the UAE's longstanding relationship with the UN and its host country, the United States of America.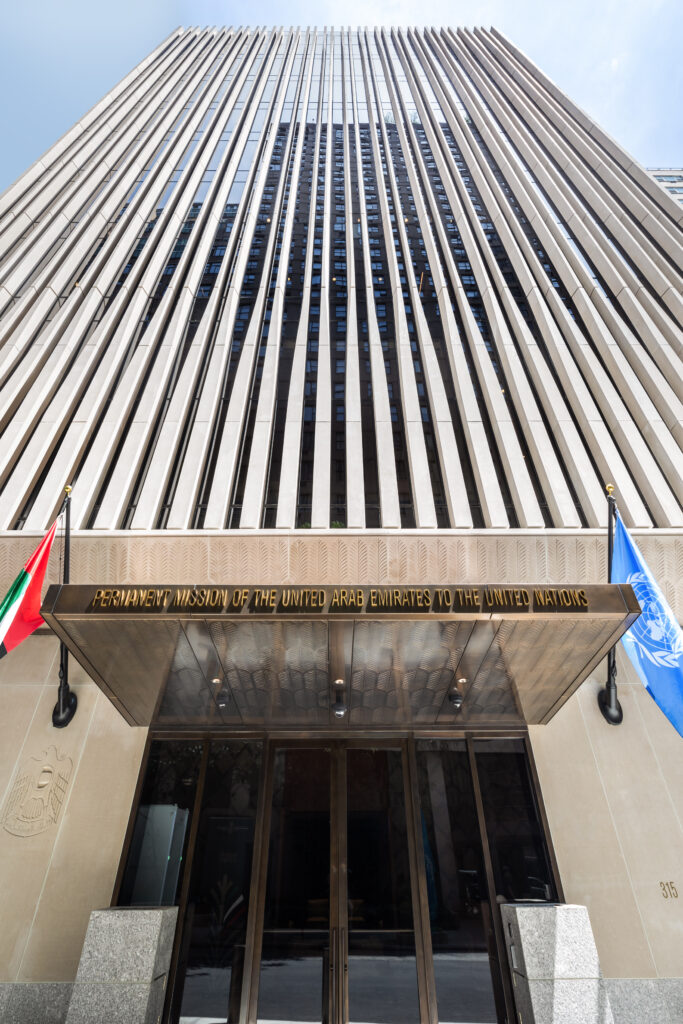 The resulting façade balances elements that are at home in midtown Manhattan with those that are subtly inspired by the UAE and the wider region. That balance is evident in the frieze above the entrance that evokes the palm leaves commonly found throughout the UAE.
Creating a welcoming environment inside the building was also critical. When guests enter the ground floor, they experience a more traditional welcoming space in the courtyard – an important element in the traditional design of Arab homes. Once guests are received, they transition to the bright, more contemporary second floor.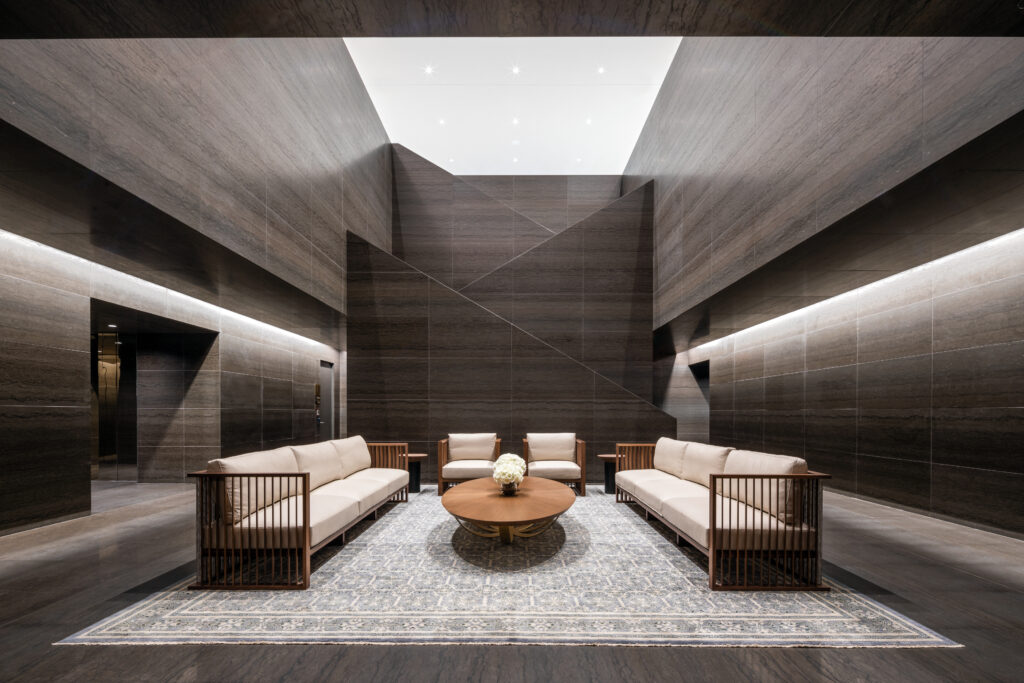 Interiors and furniture were designed by the Beirut-based Nada Debs, and wood lattices on several of the floors evoke the Mashrabiya, a screened window that is a part of Islamic architecture. The goal was to create interiors that are true to Arab identity, contemporary, and timeless.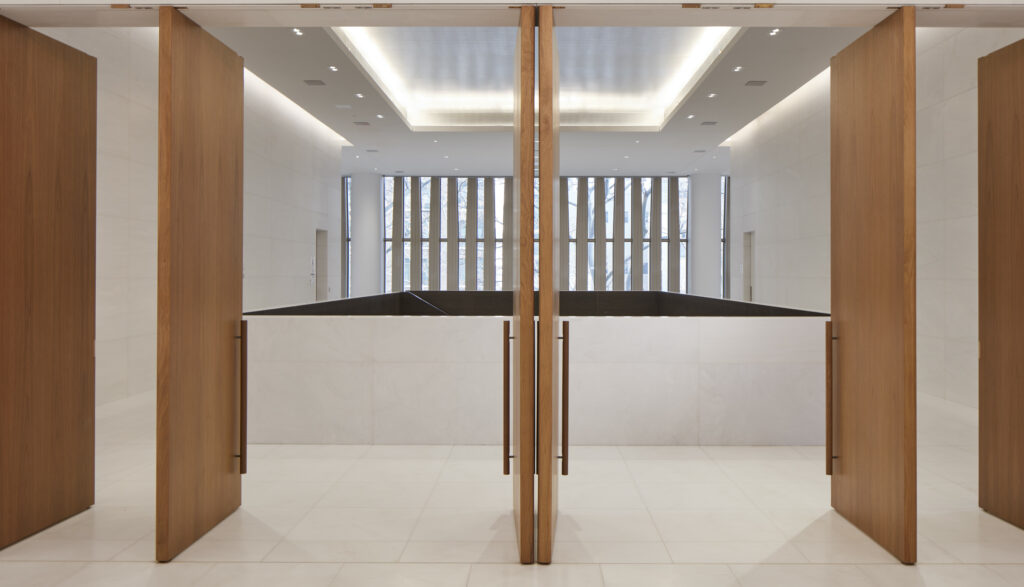 The décor also includes more subtle touches, such as carpets throughout the building from the Fatima Bint Mohamed Bin Zayed Initiative, which supports women and children in Afghanistan by creating employment for them in traditional carpet weaving.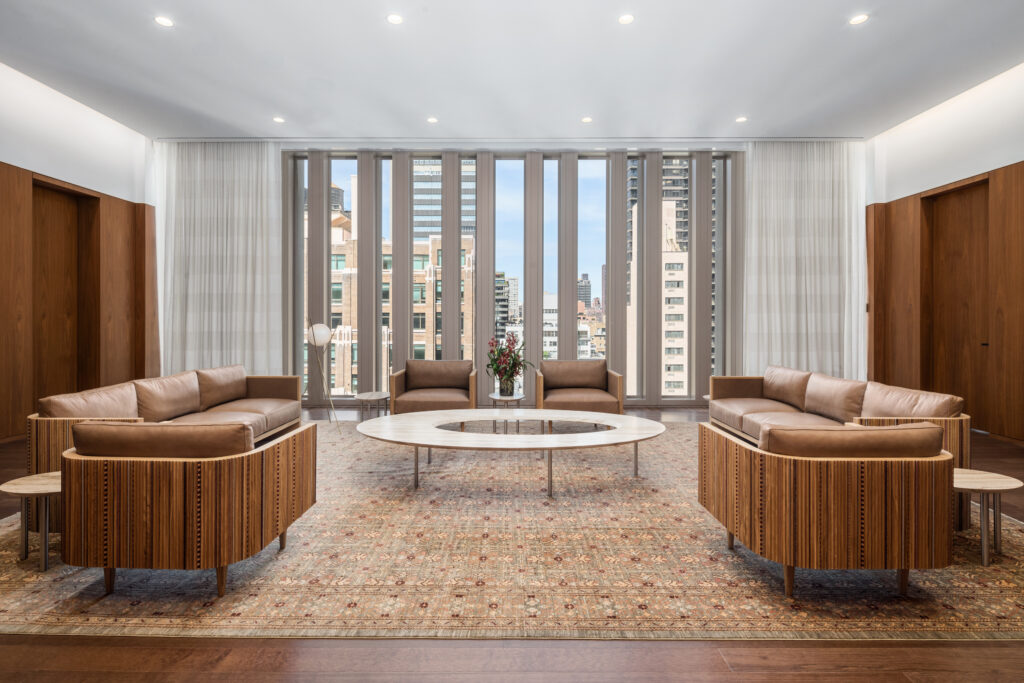 The building is also LEED Gold certified and uses sensors to control lighting and reduce energy consumption – underscoring the UAE's commitment to sustainability and achieving a net zero society.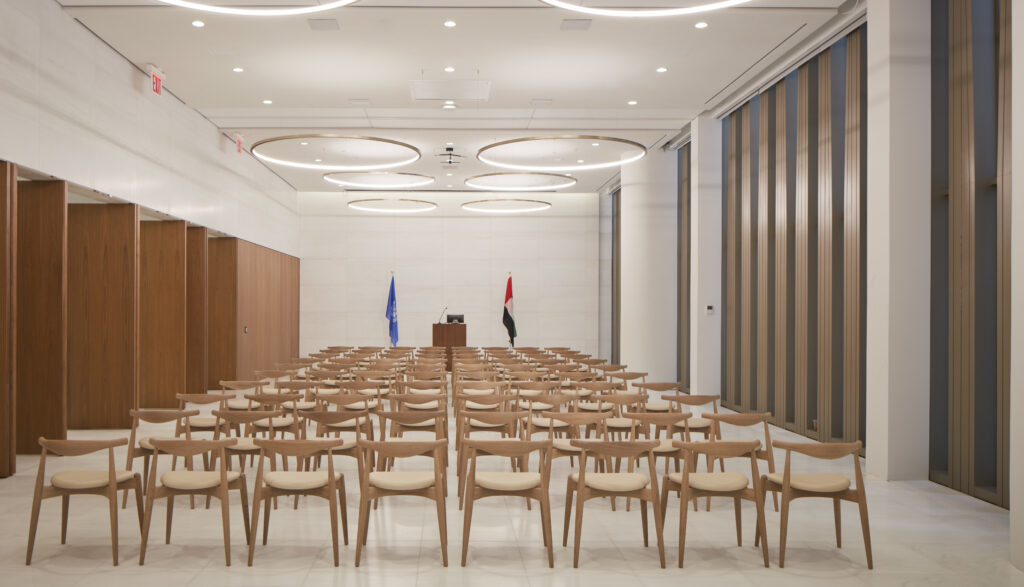 As the architects of the new building conclude, "there is a timelessness in its materiality, as well as a durability. The permanence of the material will make the new building of the UAE Mission to the UN a lasting work of architecture that will serve the UAE for decades to come."