The UAE offers a progressive model for a modern Arab and Muslim country governed by strong institutions and evidence-based policymaking. The UAE encourages religious pluralism, promotes interfaith dialogue, and supports religious freedom. We seek to share these progressive values with others in the region and around the world because we know that more inclusive societies foster stability and peace.
Religious Pluralism
More than 200 nationalities, each with their own cultures and traditions, call the UAE home. The UAE is proud to host dozens of Christian churches, two Hindu temples, a Jewish synagogue, a Sikh temple, and a Buddhist monastery.
2019 marked the UAE's Year of Tolerance, our celebration of different cultures and faiths. In 2019, His Holiness Pope Francis made a historic visit to the UAE. It was the first ever visit by a sitting pope to the Arabian Peninsula. During that visit, Pope Francis and Dr. Ahmed el-Tayeb, the Grand Imam of Al-Azhar, signed the Document on Human Fraternity for World Peace and Living Together, which envisions how people of differing faiths can peacefully coexist.
In 2022, we will complete the Abrahamic Family House — a church, a synagogue, and a mosque all on the same site. When it opens, the center will be a place of learning, dialogue, and worship. Its design and programming will embody the shared values of Christianity, Judaism, and Islam and serve as a living reflection of our commitment to understanding and acceptance.
In 2019, the UAE partnered with the UN's heritage agency, UNESCO to become the first country in the world to restore Christian churches in Iraq destroyed by Daesh.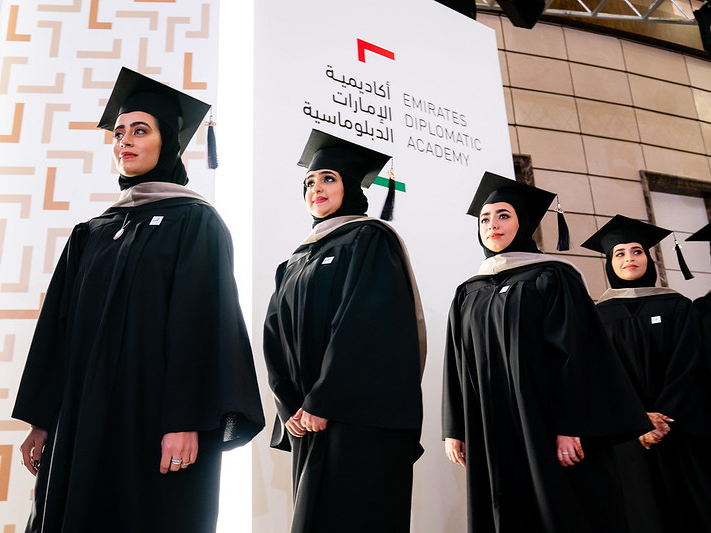 Advocating for Women
Air force pilots, cabinet members, business executives, scholars, and scientists. Emirati women drive our economy and are leaders in our government. They are innovators and creators who shape our society.
Men and women are equal partners in the UAE. We protect the rights of women in the workplace, encourage women's higher education, and guarantee women rights under the law.
Our pride in these achievements at home is reflected in our priorities at the United Nations. We have supported UN Women since its founding in 2010, and Ambassador Lana Nusseibeh, the UAE's Permanent Representative to the UN, served as its President in 2017. The UAE has consistently advocated for the integration of gender considerations in financial and programmatic assistance for communities recovering from conflict and natural disasters.
People of Determination
"Disability is in fact the inability to make progress and achievements. The achievements that people of determination have made in various spheres over the past years are proof that determination and strong will can do the impossible and encourage people to counter challenges and difficult circumstances while firmly achieving their goals,"- HH Sheikh Mohammed bin Rashid Al Maktoum, Vice President and Prime Minister of the UAE and ruler of Dubai.
The UAE promotes the rights of persons with disabilities through its national policies and strategies, as part of promoting and protecting human rights that guarantee a high quality of life for all. In the UAE, persons with disabilities are referred to as "people of determination" in recognition of their achievements across different fields.
The UAE has signed the United Nations Convention on the Rights of Persons with Disabilities and passed federal legislation ensuring that people of different abilities have an equal opportunity to participate fully in society.
In 2019, Abu Dhabi became the first city in the Middle East to host the Special Olympics World Games with approximately 7,500 athletes from more than 190 countries who competed in 24 events.